December 20th, 2008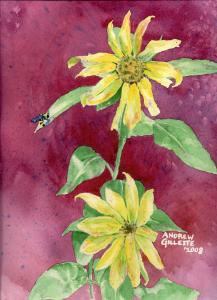 "Ah Sunflowers"

Ah Sunflower, weary of time,
Who countest the steps of the sun;
Seeking after that sweet golden clime
Where the traveller's journey is done;

Where the Youth pined away his desire,
And the pale virgin shrouded in snow,
Arise from their graves, and apire
Where my Sunflower wishes to go!

-William Blake


THE METHOD:

The photograph I took was beautiful: two bright sunflowers under the noon sun, standing proudly in front of three slats of a wooden fence. I considered painting the composition exactly as it was in the photograph, but I thought against it. It was good, but perhaps seemed a little.... ordinary. I stared at the photograph for a considerable time, then I decided the direction I wanted to take.

I employ tight, controlled technique to create bright, realistic, sunlit flowers, and then give the paint much more freedom for a bright purple background. I added a bumblebee to the mix to give the painting a little more interest, and to give the flowers a little more purpose.

I intended the painting to contrast several things. Purple, loose background with yellow, tightly controlled flowers. For the flowers themselves, I used yellow, greens, browns, and touches of Thalo Crimson, with green for any shadowing I needed. For the background, I let bold, wet washes of Prussian Blue and Thalo Crimson interact, occasionally applying thick Crimson straight to the paper with a dry brush, and sometimes spritzing the painting with a spray bottle, or adding salt to create a more interesting texture. Finally, I used a wire brush to throw some random, blue flecks on the paper. I didn't mix any colors on the palette, but layered washes of pure color directly on the paper.

I hope that others find this as pleasing to look at as I found it to paint, and I always welcome comments of any kind!