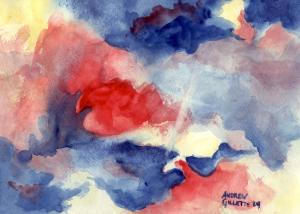 I started this painting having no concept of where it was going to take me- I was simply letting the pure red, blue and yellow enjoy some freedom. As I progressed, I wanted to move in the direction of a "heavenly" piece, and keep the whole painting more abstract than anything, focusing on the composition, soft edges vs. firm edges, reds vs. blues. Eventually I noticed what looked to me like loosely formed angels, and perhaps that was simply a reflection of my present frame of mind. I was at the time watching a documentary on end of life issues, and I am re-reading the C.S. Lewis book "Mere Christianity."

Once I had floated in this direction, I spent the remainder of my effort on rubbing out some of the paint with a round brush and paper towel to further soften some of the edges and provide a texture, as well as using this same technique to create the cross.

I didn't start with any expectations of where this piece would go, or of its degree of success, and sometimes that is a good attitude towards painting and life itself. Let go of all of your expectations so you can enjoy the moment.... and just like when you look up at clouds and began to form images from them, here I hope you can find your own angels in this painting.