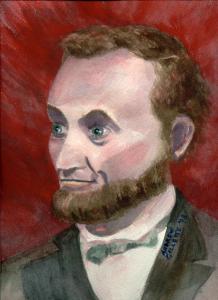 Many of us rarely think about Lincoln in anything other than black and white. We take him for granted as a historical figure, a savior of the country during its biggest challenge, and we forget that he was human... He loved and spoiled his children, he was kind and good-humored, yet he was relentless in his prosecution of the Civil War. He abhorred slavery but was frustratingly practical in its abolition. During his presidency, he was often more hated than loved, and though most agreed his was honest, many thought him a stupid, weak or ineffective leader.

An unpredictably devastating war was finally won, on his watch, in his way, and it was clear the Union was saved and he was its hero. Now he could finally, after half a decade of loss and struggle, truly bask in his magnificent achievements and at last enjoy a leisurely night at the theater with his wife. He was young again- things were looking up. Nothing could go wrong.

Through years of toil and death, he managed throughout to remain steadfast to winning the war when most considered it lost, and he managed to keep his wisdom, humility and humor intact. This painting shows a more youthful, lighter side of Lincoln, adapted from when he sat for a photograph with his son Tad. Despite his cool demeanor and famous humility, his face barely contains his pride for his sons.