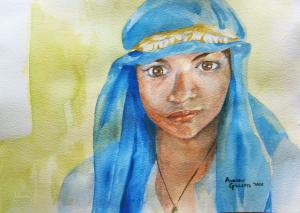 Seeing Deeply was a joy to paint because it focuses on one of my favorite subjects- my fetching wife. My intent was to capture an "exotic feel" and cause you to stop and look into the eyes as they look back into you. By this, you might actually find yourself getting lost in a trance as the eyes gather their information.

To paint this piece, I started out with a light wash of Cadmium Yellow Pale Hue for the background, and for the skin, I used a lot of yellow and Alazarin Crimson, generally keeping the use of brown and blue to a minimum. Unlike the skin tones, which were made of carefully mixed colors, I applied color directly from the tube for the headscarf, using pure colors and a lot of water to allow the paint its independence.

I applied the shadows carefully, lifting most of the harder shadows back off with the brush and following up with another crimson/yellow mix so the face could maintain its warmth. I added a wash of simple green (mixed with a little Raw Sienna and yellow) to the background, and to finish I placed a necklace around her neck.

As always, I welcome and appreciate your questions, comments and feedback!