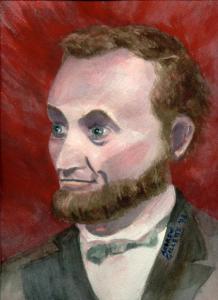 Hello all,

I hope everyone is faring well and enjoying a fruitful February. February is not only about celebrating love, but also about celebrating presidents and reflecting on the achievements of giants in history like Abraham Lincoln.

I like to examine the human side of Lincoln. Many of us rarely think about Lincoln in anything other than black and white. We take him for granted as a historical figure, a savior of the country during its biggest challenge, and we forget that he was human... He loved and spoiled his children, he was kind and good-humored, yet he was relentless in his prosecution of the Civil War. He abhorred slavery but was frustratingly practical in its abolition. During his presidency, he was often more hated than loved, and though most agreed that he was an honest man, many thought him a stupid, weak or ineffective leader.

Through years of toil and death, he managed throughout to remain steadfast to winning the war when most considered it lost, and he managed to keep his wisdom, humility and humor intact. I have included in this newsletter a painting that shows a more youthful, lighter side of Lincoln, adapted from when he sat for a photograph with his son Tad. Despite his cool demeanor and famous humility, his face barely contains his pride for his sons. That's an important lesson that we can draw from Lincoln: Despite the troubles we might be going through, despite what people say about us, we can always maintain our humility, honesty, and humor. We must always take time to appreciate the joys that are present in our lives, even (and especially) the small joys we might often take for granted. Remember that even a small light can help us find our way through the darkness.

Best Regards,
Andrew Gillette


P.S.
As a side note, I'm sure everyone has noticed the ever increasing length of presidential campaigns. The campaigns during Lincoln's time were less than half a year. At the beginning of 2007, many in the media were making convincing arguments as to whether Clinton or Giuliani would win in the general election. How long ago that seems! Already there are those in the media talking about contenders in the 2012 election. It never seems to end.

So, based on the current trends, I decided that I had better make my move soon. So here, on my humble February 2009 newsletter, I am looking ahead to a bright future for this country, and announcing my candidacy for President of the United States in 2028!