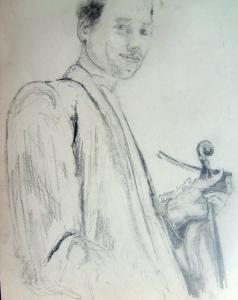 I have a couple of projects in mind. I am spending a lot of energy in portraiture. I like creating them; portraits are eye-catching and sentimental. I am starting on a long term project called Fifty Smiles, in which the theme of the art will be smiles, of any sort. The pieces may be abstract, realistic, or might just show the mouth, or perhaps just the eyes of someone smiling, but each piece will show a type of smile. I would like to do artwork that uplifts the viewer, but also encourages them to examine the different subtleties and character in different smiles. Eventually, I will get to a point where I will narrow down my artwork to fifty of my strongest pieces for the Smiles project, and I will then publish them in a book.

If anyone would like to contribute any photos, I would be glad to use them as a basis for some of my pieces, and may include them in my book, so please feel free to contact me if there are photos you would like to share for the project. I would love to have such beautiful subjects to draw, and would be happy to provide a personalized print or free copy of the book when it is published to those who participate.

Future projects:
World War One theme
Pumpkin Still Life
Family photographs (three paintings, showing different elements of the family, as if they are photographs taped to the background).