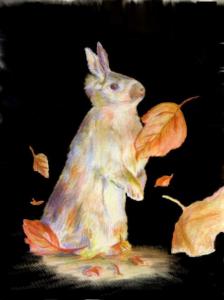 I always had some disdain for digital art, inherited from my beliefs in school. I see it somehow as cheating. This has been unfair, however. As technology changes and expands, it WOULD be a shame NOT to embrace it and use it as a tool to express a beautiful object or idea.

Fine sites like Fine Art America make it much more practical to sell prints-on-demand as opposed to originals. Digital modifications on a program like Gimp (the free version of Photoshop) are not only a good way to test out art on the marketplace and make small modifications to improve the composition, but it is also a good way to try out different options before committing the actual paint to the paper.

I find digitally modifying work to be increasingly attractive (only the pieces which are not for sale as originals, so as not to misrepresent what a buyer might receive). It is a fantastic way to hone my compositional skills, which I freely admit is my biggest challenge and the separation between good and great works of art. I have featured a digitally modified colored pencil drawing which I hope provides a case in point (original not for sale). The original drawing was done on normal white, 20 lb typing paper. The background was a dull, rough texture rendered with dark colored pencil, the horizon line ran all the way across the page, which made the ground that the rabbit stood on very uninteresting. Although I was pleased with the colors and texture of the rabbit herself, the drawing overall lacked any "visual pop."

So I made a few modifications through Gimp. I applied pitch black background which encircled the entire composition. I removed the horizon line, and left only a small patch of grass to support the rabbit. I don't pretend to compare this piece with some of the fine masterpieces on Fine Art America, but thanks to these technological tools, I am finally... satisfied.